Carpet Shampooer
Categorized: Carpet Cleaning Tips, Carpet Shampoo Machines, Uncategorized
If you have decided to shampoo your carpets then you will need a carpet shampooer. Some people own their own carpet shampoo machine and others rent them. Your decision will depend on how often you shampoo your carpets and how much room you have in your home to store large pieces of equipment. Of course, carpet shampooers are only about the size of a large vacuum cleaner. Nevertheless, if your house is like mine then your closet space is limited and you do not have many places to store carpet cleaning equipment.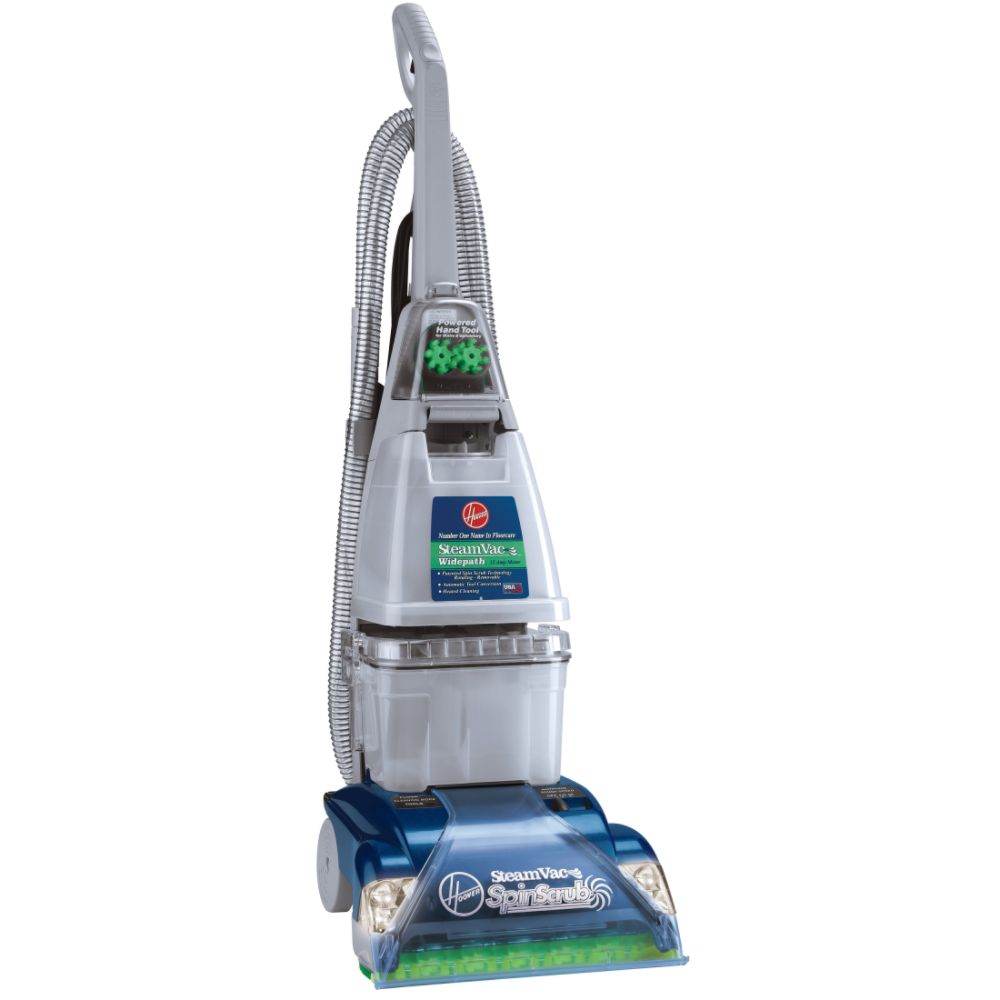 If you decide to buy then there are several factors to consider. First, how wide should your commercial carpet shampooer be? You can purchase these machines in a variety of widths. Generally, the wider the machine the fewer passes you need to complete to clean the room. However, the wider machines are heavier and harder to maneuver. If the room is full of many large pieces of furniture that you will not be moving when you shampoo the carpets, then it might be more efficient to use a less wide carpet shampoo machine. Hoover has trademarked a name for their wider machines called Widepath™. One popular model featuring this wider cleaning surface is the Hoover SteamVac™ Widepath™ deep cleaner. This Hoover carpet shampooer features six rotating brushes and a CleanSurge feature that allows the user to dispense more cleaning solution onto particularly soiled areas of the carpet.
Another thing to consider when choosing to buy a carpet shampooer is whether it will have a rotating brush system or fixed brushes. There are pros and cons of both approaches. The rotating brushes are better for getting out tough stains and for rigorous cleanings. The rotating action works well to scrub deep into the carpet fibers and pull dirt to the surface where it is easily sucked away. The problem will rotating brush carpet shampoo systems is that the rotating brushes can be hard on delicate fabrics. There could be pulls or tears in the carpet. If you have a particularly delicate carpet then fixed brushes might be a better idea. Dirt Devil is an example of a company that makes fixed brush carpet shampooers as well as rotating brush carpet shampooers. The Dirt Devil carpet shampooer called the CE6000 has five rows of fixed brushes and is advertised as a good machine for cleaning everyday spills right after they happen. This machine is almost identical to the CE7100 that has rotating brushes. Of course, there is a cost benefit to purchasing the fixed brush variety of machine.
One final thing to consider, when trying to find the best carpet shampooer for you, is what kind of attachments it has available and how much hose. With additional attachments, you can clean things other than the carpets, like upholstery or curtains. With the simple change of an attachment you can have an upholstery shampooer as well. In addition, with long sections of hose, you can clean larger areas before having to stop and change outlets. If you choose a reputable machine like a Bissell carpet shampooer, there are many additional accessories and extra parts easily available to you.
If you do not want to buy your own carpet shampooer, then you always have the option of carpet shampooer rental. However, your options will be more limited since rental locations rarely keep a wide variety of choices in stock. They typically have a few of the basic models with not too many bells and whistles. If you really want to have full advantage of a carpet shampoo machine, then you should purchase one.
Tagged with: bissell carpet shampooer, carpet shampoo, carpet shampoo machine, carpet shampooer, Hoover carpet shampooer, how to shampoo carpet
Post Comments
[...] your carpets and you do not own your own carpet cleaning machine, then you will need to rent a carpet shampooer. You may be wondering where one goes to rent such a machine. You have three pretty plausible [...]

on June 2, 2010 at 6:51 pm

[...] favorite carpet shampooer to rent is the Rug Doctor. They have them at my local grocery store and that makes it very [...]

on June 4, 2010 at 3:45 pm

[...] do you want an upright carpet shampooer, a canister shampoo machine, or a compact carpet cleaner? Up right machines look a lot like vacuums [...]

on June 7, 2010 at 3:30 pm

[...] are several attachments that make this carpet shampooer from Hoover an even better investment. There is a SpinScrub powered hand tool with a rotating brush [...]

on June 7, 2010 at 7:20 pm

[...] of the things that Dirt Devil uses to set this carpet shampooer apart from other carpet shampooers is the fact that there are two suction nozzles on this machine. [...]

on June 8, 2010 at 7:16 am